How To Plan A Retreat - A Step By Step Business Guide
How do you plan a retreat business successfully and what steps are involved? People host and run retreats for a multitude of reasons. For some, it might be they have a passion for helping people improve their health, de-stress through mindfulness at wellness retreats or improve their flexibility through yoga retreats. They might have a skill they want to share in craft retreats or they might be leaders wanting to organise spiritual retreats. Maybe they have retired recently and are looking for a lifestyle business idea that can supplement their pension. Others might be more business-focused and want to improve the occupancy of their hospitality business during the quieter shoulder months or run corporate retreats, which can be quite lucrative. Whatever the reason, deciding to host retreats may be the perfect career path for you into your own lifestyle business that reignites your inspiration and allows you to start something as a stand-alone business, an extra service to help you ride the wave of an unstable economy or to run alongside your existing day job as a passion project.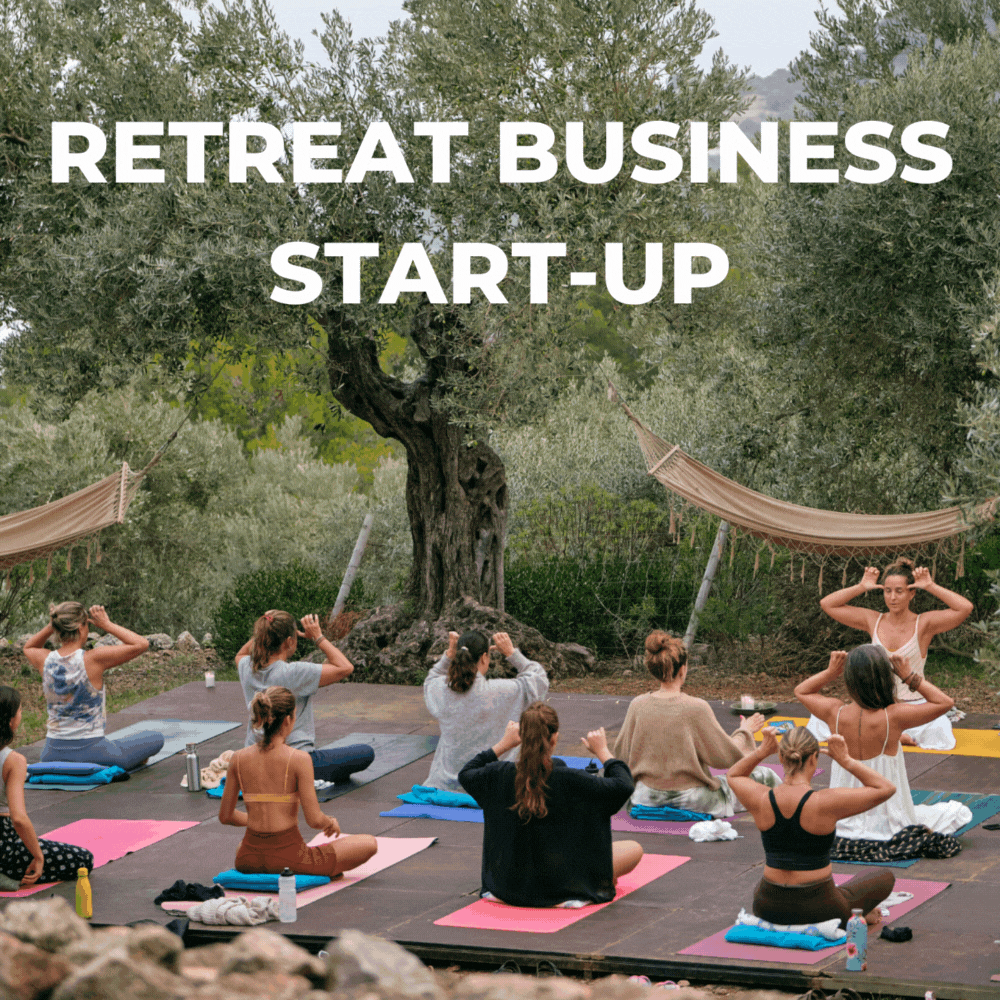 How to start a successful lifestyle business running retreats
From finding the right location to marketing your services a retreat business can be complicated to set up, which is why it's important to have a plan. If you are thinking of running a retreat then this guide has been put together to help you understand the basic essentials to launch and grow a successful retreat business in whatever shape fits your life and business. If you need more help and support to get your retreat business started quickly and profitably with sold-out events then get in touch as we can help you jump ahead of the competition in half the time.
Want to host a retreat... but are you cut out to become a retreat leader?
There are many reasons why you might be thinking of running experience events and becoming a retreat leader. You might have your heart on it after gaining skills in something new, or you might know the benefits you have experienced from an activity and want to share that knowledge with a wider audience. Or you might want to start a retreats business as:
A stand-alone business you are wanting to grow and expand for a future career
Something to plug the gaps in your earnings if you run a seasonal business
An additional element to your hospitality business to improve your occupancy at quieter times
A way to generate income to launch a hospitality business in the future
An additional income stream running retreats to enhance something you already do, such as coaching, training or teaching (yoga, wellness, crafting, corporate and business skills, etc.)
When you plan a retreat, define your niche and target audience first

Before you start planning your retreat, it's important to define your niche and target audience. What type of retreat do you want to offer? Who is your ideal customer? Are you targeting busy professionals looking for a weekend getaway, or are you catering to those seeking a more spiritual experience? Once you have a clear understanding of your niche and target audience, you can tailor your retreat to meet their specific needs and preferences. This will help you attract the right customers and build a loyal following for your business.
Choose a location and venue that fits your brand and goals

When it comes to planning a successful retreat, choosing the right location and venue is crucial. Your location should align with your brand and goals, and provide the right atmosphere for your attendees. Consider factors such as accessibility, amenities, and the overall vibe of the location. You may also want to consider partnering with a venue that has experience hosting retreats, as they may be able to provide additional support and resources and take the majority of the retreat business-building pressures away from you while you spend your time looking for your customers. Remember, when considering how to plan a retreat, the location and venue you choose will play a big role in its success, so take the time to choose wisely.
Develop a unique and compelling retreat program

To stand out in the competitive retreat industry, it's important to develop a unique and compelling program that will attract attendees. Start by identifying your target audience and their needs and interests. Then, create a program that addresses those needs and interests in a creative and engaging way. Consider incorporating activities such as yoga, meditation, workshops, and outdoor adventures. Don't be afraid to think outside the box and offer something that sets your retreat apart from others. Remember, a strong and unique program will help you attract and retain attendees, and ultimately lead to the success of your retreat business. A great place to start is thinking about what you can provide from your own skills that are a bit different. After all, there's only one of you so create something compelling that will help your retreat event stand out.
Build a strong online presence and marketing strategy to attract sales every day

In today's digital age, having a strong online presence and marketing strategy is essential for any business, including retreats. Start by creating a professional website that showcases your retreat program, amenities, and testimonials from past attendees. Use social media platforms like Facebook and Instagram to promote your retreat event and engage with potential attendees. Consider partnering with influencers or bloggers in your niche to reach a wider audience. You can also use email marketing to keep in touch with past attendees and offer special promotions or discounts. Remember, a strong online presence and marketing strategy will help you reach more potential attendees and grow your retreat business.
In the Perfectly Planned and Profitable Retreats System®, we share the strategies we use to fill retreats and unique events. Many of them can be automated to attract sales every day and free you up from having to build an audience, post social media content and share emails with your followers. These are the ones we like to call our set-and-forget strategies and they can be hugely rewarding from a retreat business point of view. However, don't forget they first need to be set up and that does require some attention to detail, but once the steps are laid out for you it can be remarkably easy to do.
Create a positive and memorable experience for your guests

One of the most important aspects of running a successful retreat business is creating a positive and memorable experience for your guests. This starts with providing comfortable accommodations, delicious and healthy meals, and a variety of activities and workshops that cater to your guests' interests and needs. Make sure to also prioritise excellent customer service and communication throughout the entire retreat experience. Encourage feedback from your guests and use it to improve and enhance your retreat program for future attendees. By creating a positive and memorable experience, you'll not only attract repeat guests but also receive positive word-of-mouth referrals and reviews.
If you are struggling to understand how to plan a retreat that sells out, our retreat business training here at the academy makes it easy for you with video guides, downloadable checklists and done-for-you templates. Click here to learn more about The Perfectly Planned And Profitable Retreats System® with Sarah Riley and guest experts.
Blog - More on how to start a retreat business here